Reading Time:
5
minutes
There are many benefits to creating an office 365 email address for your company. Apart from making you look legitimate and credible, it gives your company access to Office 365 and its many products.
Office 365 is the ultimate productivity tool. It includes services such as Outlook and Office, and other products such as OneDrive, Teams, SharePoint, Exchange Online, and other online services. Businesses can streamline operations and migrate accounts to the cloud with access to these tools.
That way, every employee stays connected. At first, it might seem like a daunting task to set up an Office 365 email account for your business. We're here to tell you that it isn't, and walk you through the process.
So, here is how to create an Office 365 email for your company.
Select A Plan
The first step when creating an email address for your business is to create a Microsoft account for your business. The short version of this step is to go to Microsoft's website, navigate to "Microsoft 365," and choose from the available list of plans.
As the website says, Microsoft offers two work plans – Business and Enterprise. There are a few differences between both plans. The enterprise plan is more powerful as it allows you to create unlimited employee accounts, greater email and calendar features, and advanced admin and security features.
We leave this one down to you, as you might be contempt of Microsoft's business plan as opposed to the enterprise plan. Bear in mind that a basic enterprise plan costs nearly double per account.
You can choose from three available plans in both business and enterprise. For business, you can select basic, standard, or the middle-tier plan, Microsoft 3365 Apps for Business.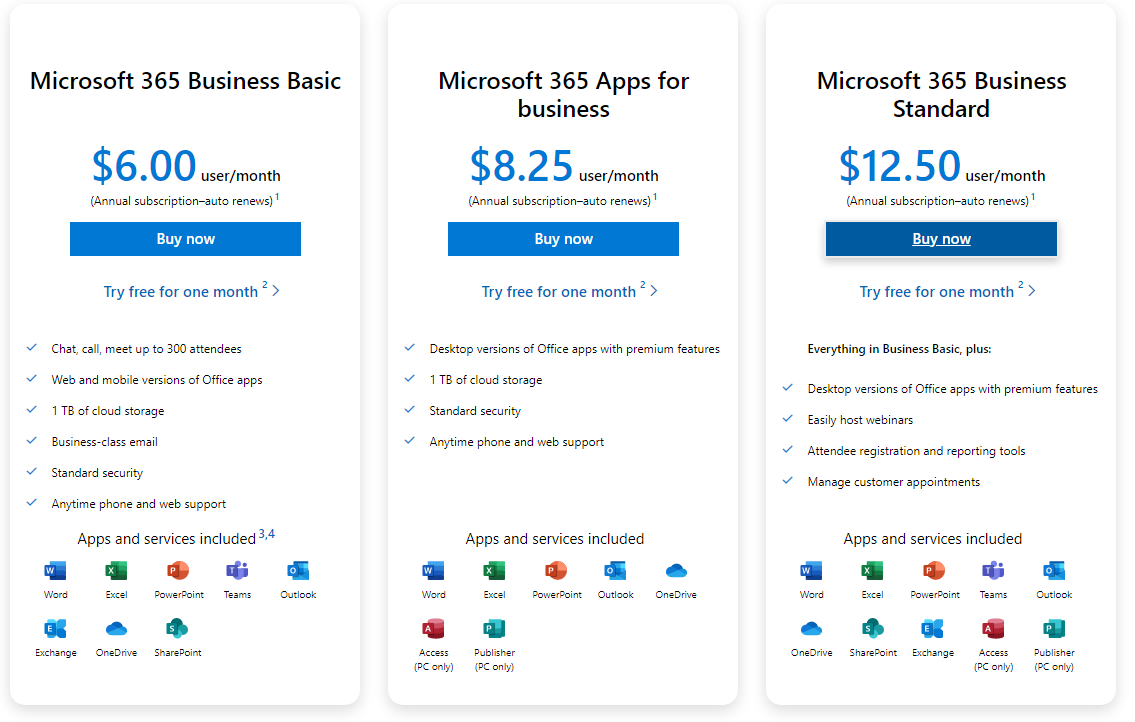 For "enterprise" plans, the list of available options is F3, E3, and E5. All plans include Outlook – the app you will use for your Office 365 business email.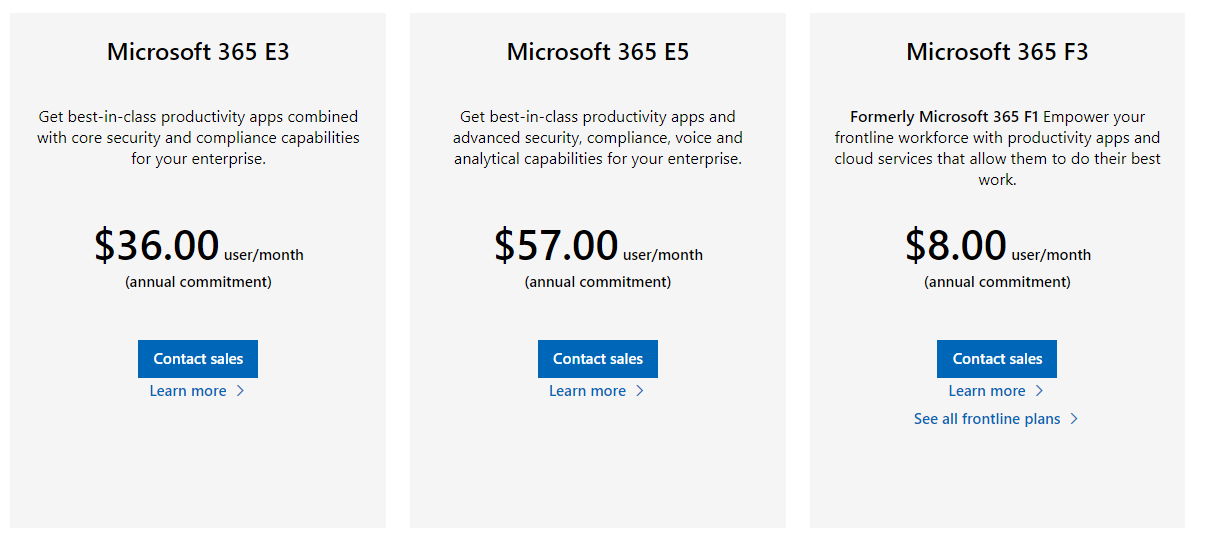 Once you've selected the right plan for you, click on the "Buy Now" and create your Microsoft account. For this guide, we will choose the "Business Standard" plan.
Set Up Your Microsoft Account
The next step is to set up your Microsoft account. Here is what you need to do.
You start by adding in your email address. Microsoft will detect if you're part of an organization and if so, you can begin the account setup process. If your email isn't associated or connected with any organization, you will skip a few steps;

Next, click on "Set up an account." A form will appear, and you will need to fill it up. Here is how it looks.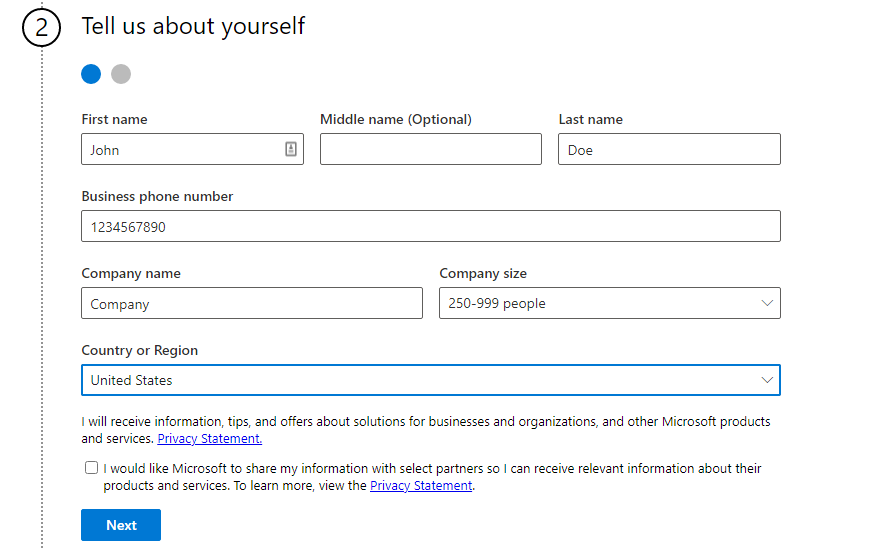 You will need to add information such as first name, last name, business phone number, company name & size, and country or region. Add all the relevant information and click on "Next";
Microsoft will need to verify your phone number, and thus verify that you are a real user. They give you two verification options – via text message or call. Choose the verification method and click on "Verify."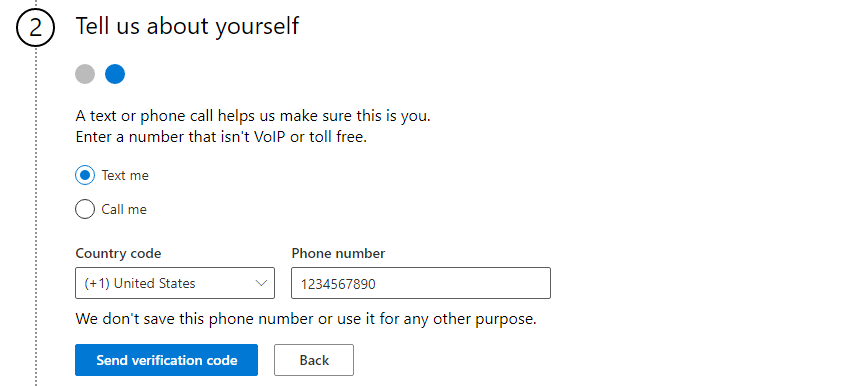 Create Your Business Identity
The next step involves creating a domain name. This step is crucial to set up your Microsoft account, as you will need a domain name to complete creating the account. Microsoft will allow you to select from three options – buy a custom domain name, use a domain name you already own, and get a Microsoft domain.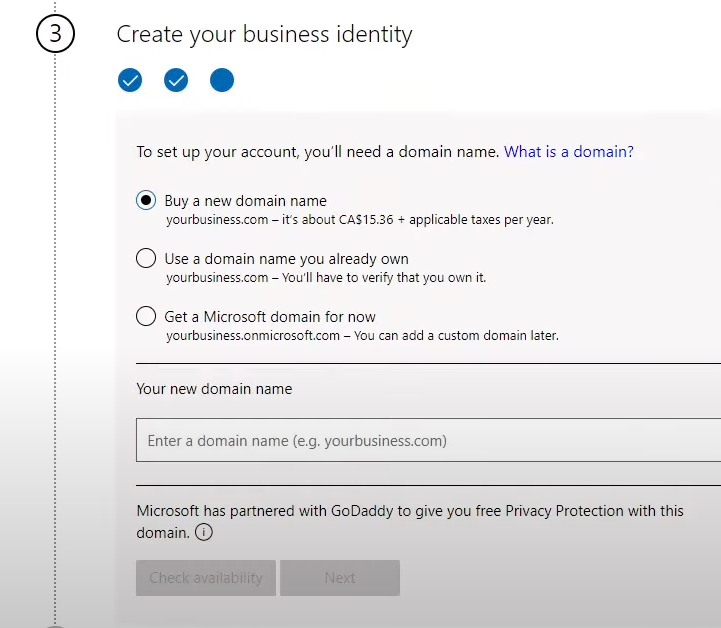 If you don't have a domain name, Microsoft will allow the option to purchase one. Alternatively, you can buy a domain name from a domain registrar such as GoDaddy, Domain.com, Bluehost, Hostinger, etc.
There is also the option to skip this step by selecting the last option and adding a domain name later.
For the first two steps, you will need to verify the ownership of the domain. Follow the necessary steps and click "I've added TXT record."
Create the First User
The next step is to create the first user. You will see three fields – display name, create a password, and confirm password. If you get an error message in this step, Microsoft will tell you what you need to change.
The first user will have that admin access to the Microsoft 365 admin center. The Office 365 admin center is where you manage all other user accounts. You can create a custom email address for each employee in the admin center.
There is also the option to add multiple email addresses for specific services of your business, such as support. Once you've completed the form, click on "Sign up."
Add Payment Information
We will skip this part as you will need to add a payment method. Microsoft offers a 30-day free trial, meaning you get a month free of Office 365. One thing we'd like to highlight is that you can select the number of users from the start.
The price for the plan will increase depending on the number of users. You can then create an additional email address for each user. We strongly recommend you add at least two users. You've already added the first user, so add another one. The reason you do this is to bypass the user creation process if you have someone in your company to give the account to straight away.
Once finished, click on "Get Started."
Conclusion
This completes the process of creating a custom email address for your business in Office 365. There are a few additional steps to go through that involve connecting your domain with Office 365.
When you sign in to the Office 365 admin center, you can add a new custom email address for each employee. Note that you will be charged for each additional email address. But what's important is you can now use your company Office 365 email addresses to streamline business operations.