Reading Time:
5
minutes
There are many reasons why you would need to export your Office 365 mailbox to PST. Common reasons include migrating to a different mail server, shutting down an account, or legal grounds.
But regardless of the reasons, the procedure of exporting email PST files is a practice that every organization should make commonplace. But how do you do it? How does the procedure work, and do you need a higher IT understanding to do it?
No doubt, the technology aims to improve all aspects of life and work. Office 365 is a revolutionary service incorporating productivity and collaboration tools to streamline business operations. It also includes various security and safety features that protect against data loss. For example, exporting Office 365 mailboxes to PST file format is one way to protect email data.
So now that we've established essential concepts around Office 365 mailboxes, let's look at how exporting said mailboxes works.
What You'll Need?
Before you export key email data, there are a few pre-requirements to look into. Office 365 has its own tool for exporting email data called the eDiscovery Export Tool. We will pair this tool with the Content Search tool to export Office 365 mailboxes effectively.
But before that, you must give permission through the Compliance Center in Office 365. Here is how to do that.
Log in to Microsoft 365 Admin Center;
Click on "Compliance" t0 open the Compliance Center ;
From the list of options on the left side, click on "Permissions;"
Click on "Roles" and eDiscovery Manager;
You will see a list of assigned roles. Make sure the "Export" role is listed. If not, you will need to add it. Otherwise, you won't be able to export Office mailboxes to PST;
Click "Save."
With these steps, you can assign the role and permission to export key mailbox data to PST file format. Now, let's look at how to export mailboxes.
Steps to Export Office 365 Mailbox to PST File Format
When exporting a mailbox, you need to select the Office 365 mailbox from a specific user. While you can export multiple mailboxes, you have to export each one individually. To make that happen, you need first to create a Content Search.
Here are the steps necessary to do that.
Step 1: Creating Content Search
Go to Microsoft's Compliance Center through this link;
In the list of options on the left side, click on "Content Search" and select "New search" by pressing the + button;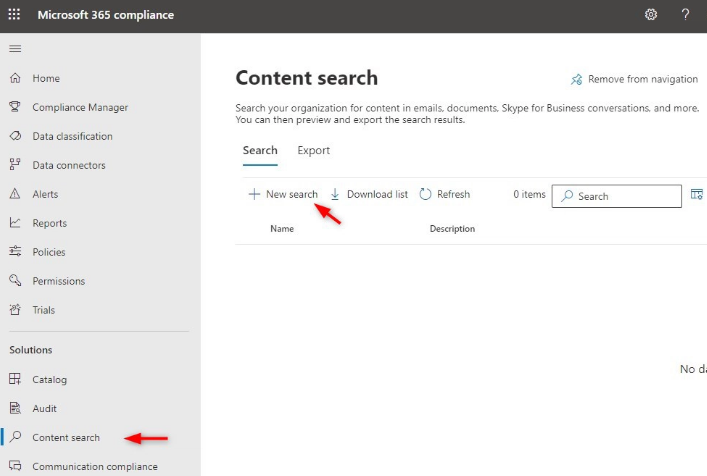 You will need to give the Content Search a name and description. This makes it easier to recognize what each Content Search is for;
Click Next and turn on the option where it says "Exchange Mailboxes." In the "Included" section, make sure to select which user's mailbox or combination of multiple users;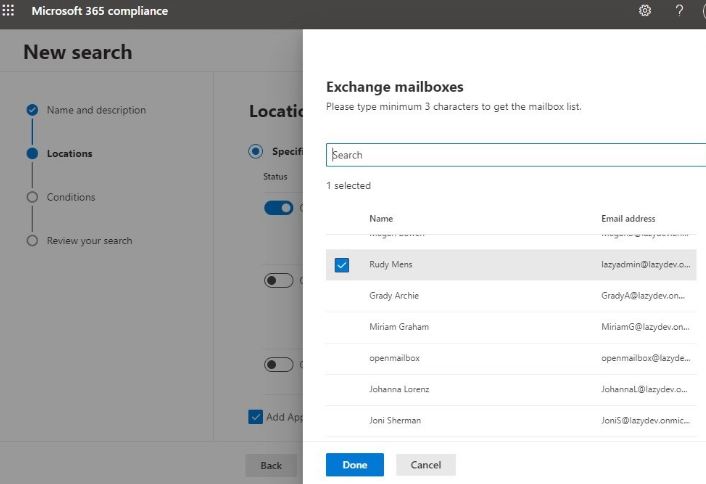 Skip the "Conditions" part by clicking next since you want to export an entire mailbox to PST;
Finish the Content Search by clicking on "Submit."
With this, you've created a Content Search for one or multiple user mailboxes. Since you're using Office 365, this results in an Outlook data file with all emails from a specific mailbox.
Step 2: Exporting Office 365 Mailboxes
Go back to the Content Search screen and wait for the process to complete. Once completed, follow these steps to export the mailbox.
Click on the Content Search and select "Actions;"
From the list of options, select "Export Results;"
You'll be presented with several two options – output options and export Exchange content. In the first option, select "All Items." Select "One PST file for each mailbox in the second option." You do this to save time and resources. Depending on the mailbox size, choosing the second or third option from the "Export" screen might result in hundreds if not thousands of PST files. If you want everything to be kept nice and tidy, go with the original option we mentioned;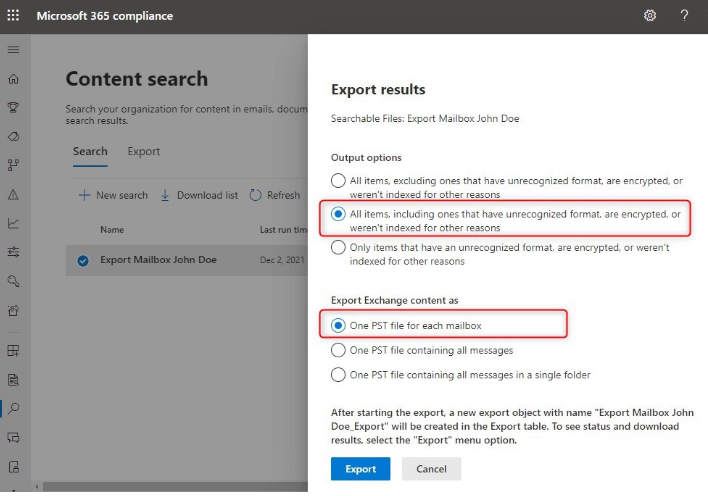 Click on Export and wait for the file to compress. Once it finishes, you can download the PST file(s);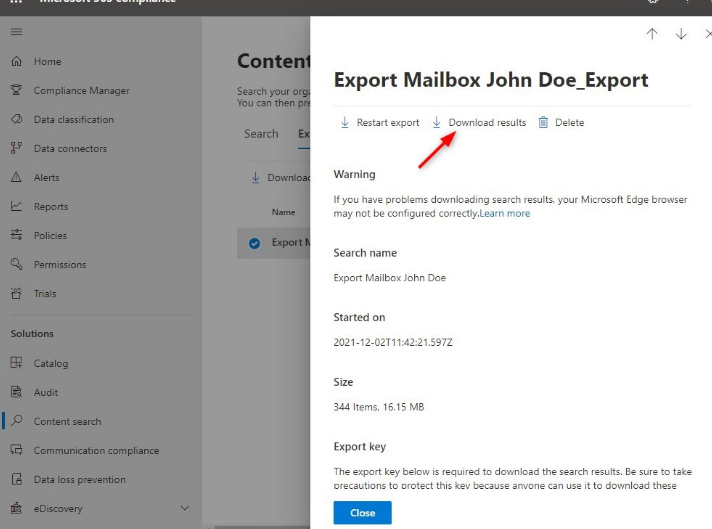 Copy the export key and download the PST file by choosing a location and name.
And that's the procedure of exporting Office 365 mailboxes to PST files. So with all that said, why do we do this?
Benefits of Exporting Office 365 Mailboxes
There are numerous benefits to exporting mailboxes. By using Microsoft's native PST export tool to export PST files of entire mailboxes, you are protecting yourself and your organization in more than one way.
Despite how well you maintain your company, legal problems can cripple it and put it in disarray. During a complex legal procedure, keeping backups of mailbox data to back up your claims is essential.
So what better way to do that than to use Microsoft's eDiscovery PST export tool to have backups of essential email data? Although the chance of this happening to you is slim, there's no reason you shouldn't protect yourself in case of legal trouble.
Fend Off Disgruntled Employees
It's common to assume that you won't keep all employees happy. However, when the time for an employee to move on comes, who is to say they won't be happy about it? Maybe they'll be so unhappy that they will sabotage your operations by deleting emails with essential data.
In that case, keeping a tight noose on their mailbox is a clever move. The export process can export an entire mailbox in a matter of minutes. So when the time comes for them to move on, back up their full mailbox in case something happens.
Protect Critical Data Against Cyber Threats
The last benefit is the one that everyone should pay attention to. It's no secret that we see an increase in cybercrime activity. Malware is rampant, and email is the preferred medium for transporting advanced threats to your network.
By keeping regular backups of critical mailboxes, you protect necessary data from getting into the hands of malicious actors. The PST file export feature will create a backup of essential conversations and attachments from your mailbox.
Conclusion
Exporting Office 365 mailboxes to PST files isn't a complicated process. However, you're getting so much in return for doing it. We hope this guide explains how to export mailboxes and why you should reap the benefits of the Office 365 export mailbox to PST feature.